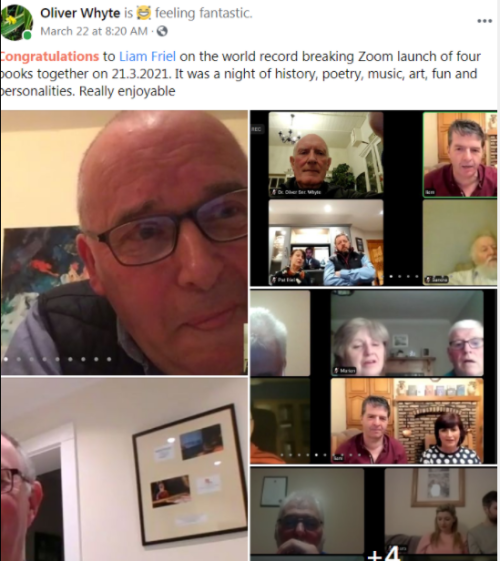 Liam Friel was born in Oughty, Drummin, Westport, Mayo, Ireland on 12th April 1961. He is the youngest in a family of five boys born to Patrick J and Mairéad Friel. He is married with three children and three grandchildren. He has spent over forty years of his working life in a local Pharmaceutical company.
Liam now resides at Carrowholly, Westport, Mayo, Ireland. He is a third-generation poet, artist and historian.
His grandfather Patrick Tunney was one of the most renowned Irish poets and writers of the last century. He was born in Derrykillew, Westport, Mayo, Ireland in 1887.
Over his lifetime he penned and published over two-hundred ballads and poems which have been recited, recorded, and performed many times. He was a prolific writer.
He captured the history of Ireland's struggle for freedom as it unfolded in front of him and of his time spent in prison.
That portion of his writings is included in the book 'Tis Érin I Love Best, first published in 2016. Liam Friel's, mother, Mairéad Friel (nee Tunney) was a gifted poet much loved by all who read and recited her lyrical poems and ballads. Mairéad was born in Derrykillew, Westport, Mayo, Ireland on 21st March 1921.
The full collection of her work was published in 2014 in the book The Poetry and Life of Mairéad Friel . Liam Friel is a local poet in the grand tradition of local poets.
He is a word conjurer who changes the simple to the profound; he shares the sanctity of the moment and makes it eternal. Long after we are all gone his words will grace these pages and provide all the humour that one needs to get through the day!
Long ago in Ireland, every parish had their own local bard, who wrote, not just about everyday local people, but about common and universal issues; topics that concerned the lives of the community in which they lived.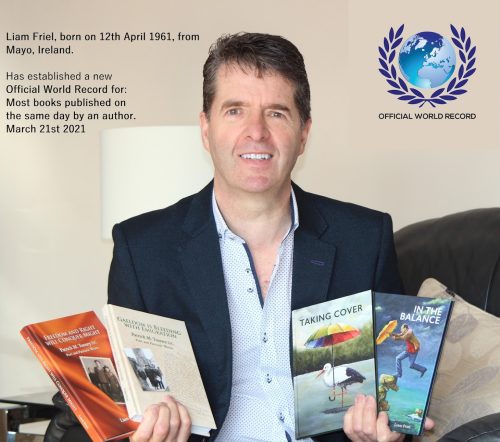 Local poets were admired, even revered. Their words carried weight. Sometimes, they were feared, in the same way that a pejorative report in a local newspaper would be. The written word remains, surely, but the words in rhyming couplet have a special force and a power. These poems are meant to be spoken and listened to rather than read from a page. In The Balance and Taking Cover are two books that capture the social history in verse. It records the characters and events, the fun and the frolics of work, rest, and play.
Over 600 characters and events are documented in verse and in art. It injects fun and is funny; he laughs with his subjects but never at them and that is what makes him stand out. His work is positive and uplifting.
Not only can we enjoy his words but also his art. His attention to detail in his words is echoed in his paintings.
They are composed in the old metre of An Amhráin with four stressed syllables in each line, giving them the lilt that we Irish recognise so easily.
Freedom and Right will Conquer Might and Gaeldom is Bleeding with Emigration will form a trilogy of books written by Liam Friel.
These books detail his grandfather (Patrick Tunney's) fight to save the Gaeltacht area, his desire to halt emigration, his support for Gaelic football, his craving to resurrect Irish industries, factories, and commerce, the ideals of Ireland's dead, Mayo's fighting story, and Winnie Heverin's stories.
The four books In The Balance. ISBN 978-1-9162530-2-5 Taking Cover. ISBN 978-1-9162530-1-8 Freedom and Right will Conquer Might. ISBN 978-1-9162530-3-2
 Gaeldom is Bleeding with Emigration. ISBN 978-1-9162530-4-9 The four books were published by Covie Publications and Recordings (CPR).
Liamy Mac Nally, Mediamac, Sheeaune, Westport, Mayo, Ireland. www.mediamac.ie. The covers were designed and the book layout was by Conor Friel, Carrowholly, Westport, Mayo, Ireland. The books were printed by WestRock, Golf Road, Westport, Mayo, Ireland. The four books were first published on 21st March 2021 in Westport, Mayo, Ireland and created the Official World Record for "Most books published on the same day by an author".
The launch date of 21st March 2021 is very significant in that it marks 100 years to the day that his mother Mairéad Tunney was born.