On the 21st of December 2021, students from 22 educational centers in Gran Canaria (Canary Islands, Spain) managed to beat the record of "The largest number of spinning tops turning at the same time" that was held by Japan until know, with 891 spinning tops
(https://www.guinnessworldrecords.es/world-records/most-people-spinning-tops-simultaneously).
At 11:00 a.m. the spinning top dance began and at 11:36 a.m. the achievement was confirmed with a total of 1,296 spinning tops dancing in unison in 22 different locations.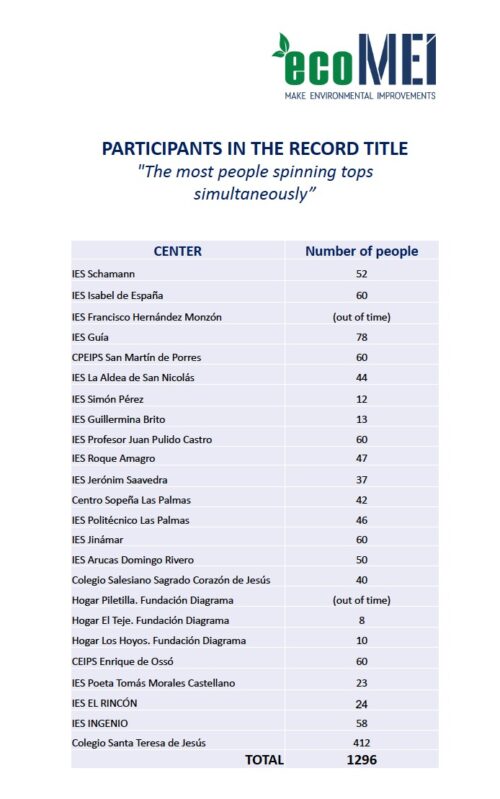 This activity was part of the workshops of the RECICLAJE km0 Project, an initiative created by the ecoMEI Association and funded by the Ministry of Education and Youth of the Cabildo de Gran Canaria and the Ministry of Youth of the Government of the Canary Islands to promote the circular economy and to encourage more sustainable consumption habits among the young people of Gran Canaria.
However, the particularity of this challenge consists in the material with which the more than 1,500 spinning tops that were distributed among the participating centers have been made.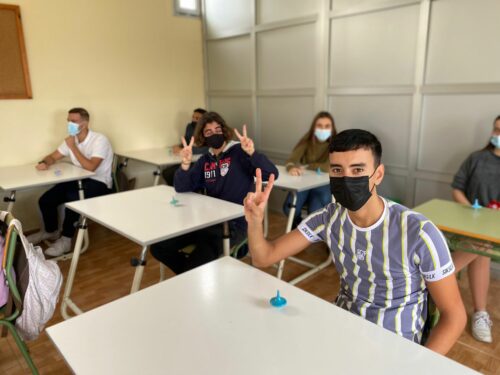 To understand the difficulty involved in the recycling of some common waste, one of the workshop sessions consisted of the manual disassembly of the 30 useless markers that are needed to make a spinning top. Some educational centers even recovered the material in which the ink is embedded, as well as the ink itself from the markers, thus closing the circle of life of this waste.
Those in charge of transforming the plastic elements of this waste into spinning tops have been Miguel Carrasco and Loreto Felipe, from Precious Plastic Gran Canaria.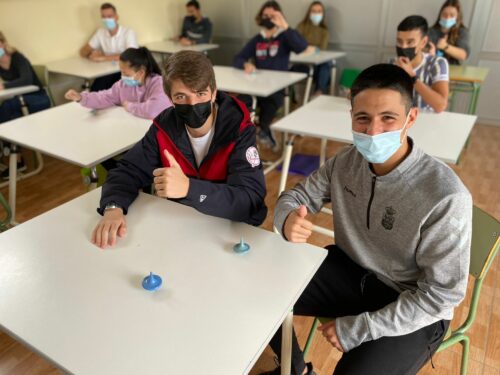 Precious Plastic is a worldwide movement that fights against plastic pollution through the circular economy and first-hand recycling.
In the island of Gran Canaria, this young couple has been combining creativity and engineering since 2018 to turn waste into resources, transforming "garbage", such as plugs or pens into useful items for daily use.
In this way, the plastic elements obtained through the disassembly process were managed only a few kilometers far away from the participating centers, minimizing the carbon footprint that is associated with the management of waste from the outermost regions.
This is the second world record of ecoMEI Association, lead by Víctor Cardona de la Fe, President and Co-founder of the ARBol Project through which the entity has been recovering and transforming useless writing instruments generated in the Canary Islands for more than five years, with the support of Martínez Cano Canarias, BIC and TerraCycle.
With this new record, the entity wants to continue promoting recycling as a measure to prevent this type of waste generated on the island from reaching landfills and to make a call to raise awareness among the world population about the need to adopt more responsible consumption habits that reduce the amount of generated waste.