Mexico's most famous tree, the ginormous Tule Tree (Arbol del Tule) grows near Oaxaca City.
Residents celebrate the famous Tule Tree the second Monday of October. It's a big party fit for a big tree!
The Tule Tree may not be the tallest or the oldest tree in the world, but it has no contenders for widest girth award. It's a natural wonder.
It's best not to look at the tree as a single icon. Indeed there is a family of ancient trees.
Rooted in the town of Santa María del Tule, the Tule Tree and its environs comprise a unique natural monument.
The town boasts several extremely large and ancient Montezuma Cypress trees. The largest – THE Tule Tree – dwarfs the town's church and is more than 2,000 years old. This tree has a circumference of 54 meters (164 feet) — the largest girth of any tree on the planet. Imagine … this tree was a sapling at the time when the Zapotec civilization at Monte Albán was flourishing!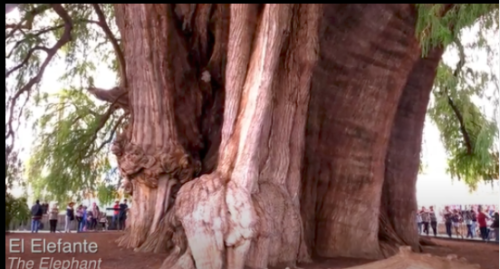 God's Walking Stick Local children point out unusual figures one can see in the tree. With pocket mirrors reflecting the sun, the guides will point out figures such as the squirrel's tail and Carlos Salinas' ears.
A belief of the Ayuuk (Mixe) is that the tree is the walking stick of one of their gods that took root and grew into the famous tree.
Natural World The cypress (Taxodium mucronatum) known in Spanish as a sabino, in Náhuatl — the language of the Aztecs — ahuehuete and in Central Valley Zapotec Yagaguichiciña, is Mexico's national tree.
According to legend, Hernan Cortes cried beneath the boughs of a cypress after the Aztecs defeated the Spanish on La Noche Triste (The Sad Night)
The area surrounding the mammoth trees was formerly a marsh filled with cattails or bulrushes, known in Spanish as tules, which gives the town (and confusingly the tree) its name.
Environmental degradation as well as increased urbanization and irrigated farming have diverted water from the aquifers.
During the dry season, the water table decreases more than six meters (20 feet).
According to the local environmental group Mi Amigo el Arbol headed by environmentalist Jorge Velasco, if only two of the underground aquifers were restored, there would be sufficient recharge of groundwater supplies to ensure the survival of these trees.
"The most effective solution to ensure survival is to have enough water throughout the year as needed to replenish the aquifers and to be vigilant on water use so that it is appropriate for local needs and avoid wastefulness."
This initiative bears watching to see if development runs the course of Joni Mitchell's classic 'Big Yellow Taxi' or charts a new direction by making the tree the centerpiece for bioregional planning.