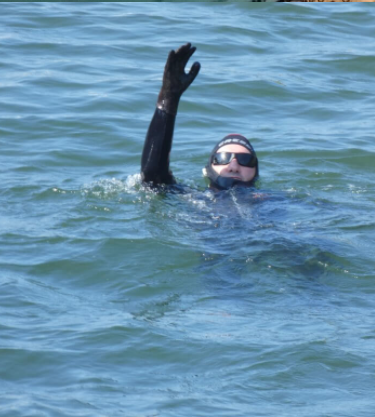 Between August 20, 2018 and August 21, 2018, the swimmer Carlos Peña, swam back-style uninterruptedly in the Urumea river of San Sebastian for 24 hours, 7 minutes and 58 seconds and a distance of 51 kilometers. Almost with no vision, with specially designed glasses that simulate Retinitis Pigmentosa in advanced stage.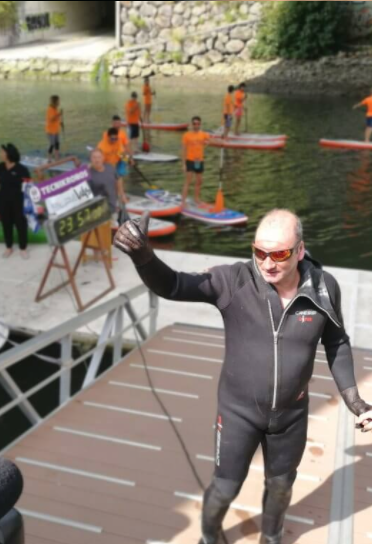 Carlos Peña, it is not easy to describe him and his relationship with water and mother nature, an accomplished activist from Tolosa (Guipúzcoa), an amateur athlete with brands and feats of an elite professional and a person who is extremely involved with any action that defends the environment and the peace. Surely we leave other characteristics outside of this definition, but it is quite close to the human profile of this phenomenon. He began as an athlete in his youth, but due to an injury he had to leave, always very active sportingly speaking, he decided that he should do something else and instead of summer vacations in Lodosa (Navarra), he decided to swim in the Ebro. its beginnings to what it is today. Since 1989 Carlos Peña, always swimming, driven by some social motive in places such as seas, oceans, rivers, lakes, reservoirs, straits, pools, bays, etc., knowing closely the wonders and dangers of such wild environments. More merit if possible, since it is an amateur athlete with feats of a professional. Most of the time he has been accompanied by friends and volunteers, on several occasions with the collaboration of local and international organizations and others, at least, by government entities.
Always he swimming and his collaborators in means of marine transport (boats, kayak, etc.) that served him of logistical support and also moral. After 29 years, Carlos Peña uses the back-to-back modality, uses a neoprene suit, small fins and the willpower that drives him to overcome incredible challenges: Rio Guadalquivir, Alqueva Reservoir, Sella River, Dead Sea, Loch Ness, Ebro River, Strait of Magellan, Strait of Gibraltar, Lake Titicaca, Lake Maracaibo, and many others that we can see in its extensive sports history. Carlos has known several continents, many countries, different cultures, has been related to different social strata, as rulers and mayors, with people so modest, but so human that they have put everything they had in the service of this man, and wherever he has been, he has been received with honors and praises that deserve such feats as those he carries out.