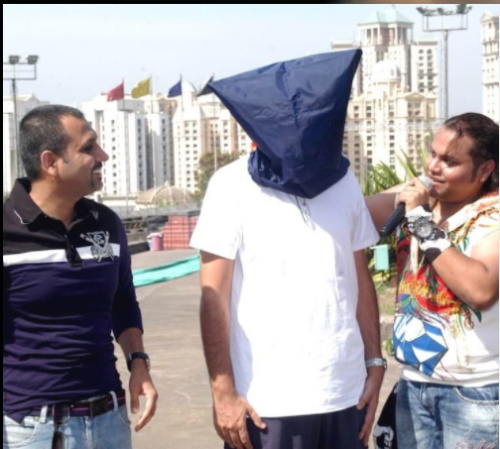 Once again on 27th November 2011 In Front Of Live crowd from Hiranandani & all over the places along with News media (Aaj Tak / Tej News) & Few Journalists. Amey Vinaykumar Sarang Alias: AVS – The Third Generation Illusionist performed the THE X-RAY EYES Act in three different stages. The blindfolds were checked by two randomly selected members from the audience who not only checked the blind fold but wear them from all sides and various angles to see that they were true blindfold and not see thru. They also checked that there were so special Electronic devises wear by AVS while sitting in the go kart car, AVS was thoroughly checked that nothing was in his ear or any other places which would direct him to drive. Below are the details of the act performed, they are as follows:
1. AVS drove with Go Kart Car 6 laps of Go-Karting race track, where as each lap was of 400 meter without any disturbance or hitting anywhere in the track blind folded In New Record Making Time of 3 Min.51.21 Sec.
2. In second phase AVS Drove Again But This Time thru 6 Assistants which were also blindfolded & Made to stand on the race track, the position where Decided by Randomly selected members and not only that they were also told to point the direction to the way which way AVS Should drive which were also decided by same selected member of Their free choice. AVS Drove 2 Laps Between them with a Record Time Of 1Min.47 Seconds.
3. In The Third AVS Walked to the Path which was made by filling of broken glasses which were also decided by the randomly selected audience which had Around 100 bottles of broken glass & path was 100 feet. AVS walked the path completely without hurting himself in Record Time Of 4 Minutes & 29.2 Seconds.