Joel Matos Ortiz, the Puerto Rican ultra-swimmer, completed 203,200 meters (126 miles), during seven (7) days, from February 20th -26th 2022, in a 50-meter freshwater pool.
The record was certified by the Official World Record company (OWR).
Matos completed this challenge in the Caparra Country Club pool in Guaynabo PR, as part of the Special Olympics Puerto Rico (SOPR) event, Strokes for the Inclusion ("Brazadas por la Inclusión").
Matos swam around 29,000 meters daily, on an average of ten and a half (10.5) hours per day, for a total of 73 hours, 32 minutes, and 11 seconds.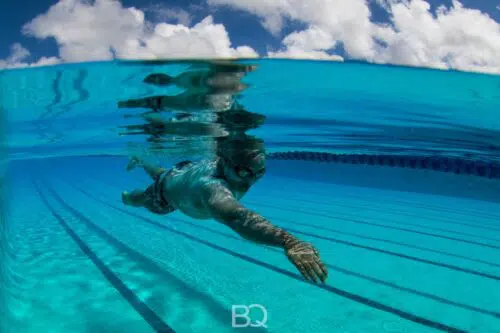 Matos expressed this has been one of the most complicated records he's achieved, given the number of consecutive days and the distance he had to swim each day. The ultra-swimmer also explained that "the strategy to complete this challenge without injuries was extremely important.
The proper use of the recovery and resting time, before next day's swim, was key to be able to complete and even exceed the daily average distance and time". Matos had to swim in a roofless pool, under very strong sun rays and high temperatures varying from 84 to 90 degrees, common conditions of a Caribbean Tropical weather. These weather conditions made the challenge much harder, given the fatigue caused by the heat, the humidity, and the sun. The nutrition of Matos during the event, had to be changed several times, to make sure it was the proper and right one to help him complete the goal in a strong health condition.
Originally the goal was to swim 200,000 meters, but Matos took advantage of his strength to complete some additional meters for the record.
On the sixth and penultimate day, Matos said that he felt very well physically and didn't stop his strokes at any time of the day.
During the last years, Matos has been the main component of the SOPR Strokes for the Inclusion event, to raise funds. On the first edition of this event Joel Matos achieved the record of swimming 24 consecutive hours in a pool, on the second event edition the swimmer completed 30 consecutive hours, the third edition was a seven (7) day tour around Puerto Rico's beaches, swimming and promoting different aquatic events for the SOPR's community, while raising funds.
The ultra-swimmer Joel Matos said that he "likes doing these events to give more visibility to the athletes and people in general with intellectual disabilities, so they can have the same opportunities as everyone else and to inspire people to choose inclusion".
In addition to all these completed challenges, last summer, Matos completed The Triple Crown of Open Water Swimming on 27 days, setting a new world record.
He completed first the Catalina Channel Swim on California, then the Swim Around Manhattan 20 Bridges Swim on New York and the English Channel Swim on England, on a total of 27 days, a new world record.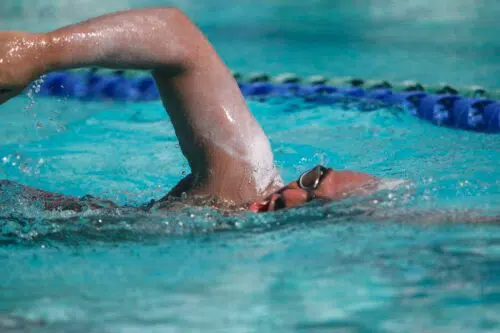 Also, in the past, Joel Matos has established other world records swimming routes around the Caribbean, that no one has attempted before him.
These ultra-swims that Matos have completed since 2018, always have a purpose to raise funds and help those who need it most, like San Jorge Children Foundation, Cancer patients, disabled athletes struggling with difficult health conditions.
And the athletes of Special Olympics of Puerto Rico.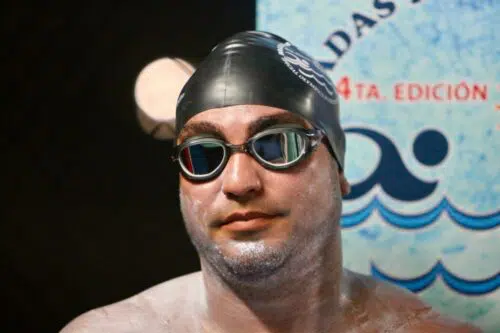 Joel Matos has been swimming since he was five (5) years old, due to medical advice to improve is lungs development, and hasn't stopped since then.
During his early competitive swimming career, Matos established national records. During his college years, he also became the captain of the swimming team for the University of Puerto Rico.
And he represented the UPR on the college swimming competitions.
Matos graduated college and had post graduate studies on Gerontology and Aquatic Therapy. He decided to specialize on the Aquatic Therapy field, so he could help children, adults and athletes with diverse conditions, who benefit tremendously from this therapy and find freedom and relief from their health challenges. Most of his patients and customers are children with conditions like Autism, Cerebral Palsy, Functional Diversity, among others. Matos has expressed on multiple occasions that his aquatic therapy patients and the own personal challenges he had to overcome as a child, are a huge part of his motivation to attempt and complete these ultra-swims, which seem impossible at first, but with Faith, discipline, perseverance and the support of his family, friends, massager, chiropractor and coach, can be completed successfully.
Joel Matos is an ultra-swimmer whose legacy is to motivate and inspire others to use their talents and gifts to help others, in his own words:
"My strokes have had the purpose to help those who need it most, and my wish is to inspire others to the same, in which ever way they choose to help".
Photo Courtesy: Special Olympics Puerto Rico and Babby Quiñonez