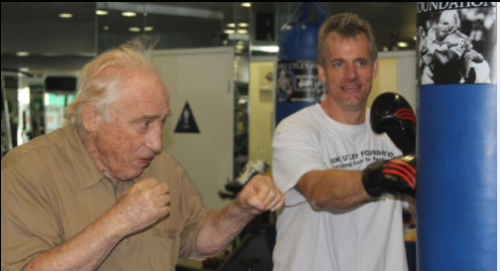 Encino, California. Ron Sarchian started thinking on break a World Record after turning 40 years despite as a child he loved reading the World Record books. Jabs coming one after the other, Sarchian hoped to get back the record, so when he was 47 hours he said he was not ready to quit, he wanted to keep going and was feeling great.
He reached is goal and finally stopped at 50 hours and 9 minutes holding back the record. Ron Sarchian whose father died at 33 and was raised by his mother, is an actor, stuntman, and recognised trainer.
He had already held the achievement for longevity at the punching bag once before, when he set a 36 hours and 3 minutes record in 2004. That record was broken in 2010, when Tom Varley beat the bag for 38 hours straight in South Africa.
Another man, Eurnie Devenney, also attempted to beat that hitting the bag for 48 hours and 42 minutes. Sarchian said he would try to beat 48 hours, using his 48th birthday as a numeric goal, and then surpassed that. During a five minute break, which the officials allow after each 60 minutes, Sarchian doffed off his boxing gloves to expose reddened, raw knuckles. He used the restroom, then wolfed down a burrito and gulped some soda while working his legs on a stationary bike to keep his muscles warm. Then it was back to the bag where he picked up the punching rhythm. His friends and supporters watched on in admiration. "He has unbelievable endurance and mental strength" said his friend Brock Ruess, who owns Premier Fitness. "I worked with him back in 2004 and when he said he wanted to this, I was like, again? That first time blew my mind. But I've never doubted him".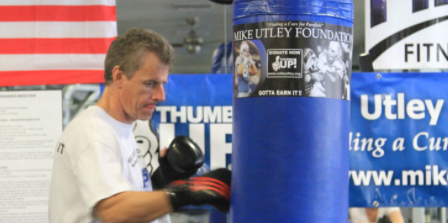 Fran Thurm trains with Sarchian and said she admired his commitment to causes. Sarchian also participated in a 24-hour Ride to Cure Cancer in 2010 to raise 10.000$, also for the Lance Armstrong Foundation. "I think it's incredible he has the strenght and will to do this", Thurm said.
Stuntman Gene LeBell, a fixture in the mixed martial arts world, called his friend Sarchian a great talent and a good person. "He's a world class stuntman, but his life's goal is to help people live longer", LeBell said. As in the past attempts, Sarchian's punch-a-thon was captured on video with witnesses on hand. In addition to his 2004 punch-a-thon, he recorded the most full contact punch strikes in 2005, most full contact kicks in one hour in 2006, and most martial arts roundhouse kicks in one minute in 2007. In many of those attempts, he raised money for the Lance Armstrong Foundation. This year, he's also using the event to raise funds for the Mike Utley Foundation. Utley was an offensive right guard for the Detroit Lions who was paralyzed during an NFL game on November 17, 1991. The foundation raises money for research, rehabilitation, and education for spinal cord injuries.