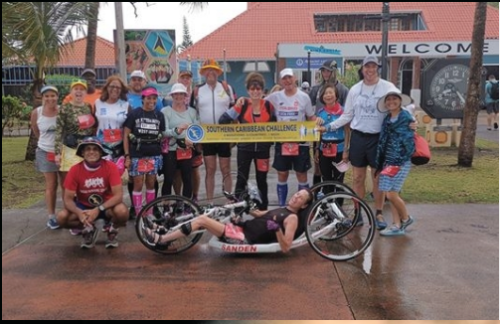 Official World Record cares about special people. So, it's a great honor (again!) to collaborate with Elizabeth Sanden, and to register her amazing and new Official World Record.
Fastest aggregate time for 12 Marathons on 12 different Caribbean Islands via Handcycle (female). When Sanden suffered a cycling accident back on 2002 and become paraplegic, was never supposed to walk again. But she is a strong person, and with a handcycle, she is completing a lot of marathons all over the world.
OWR certifies that from March 8th 2019 and June 7th 2019, Elizabeth Sanden from San Clemente (California), USA. Has done an Official World Record for: Fastest aggregate time for 12 Marathons on 12 different Caribbean Islands via Handcycle (female). Total time: 45 hours, 21 minutes, 51 seconds. Elizabeth Sanden has done the following marathons: Butterfly Island, Guadeloupe on March 8th , time: 04:08:10. O'Neal Webster Marathon, British Virgin Islands on March 10th, time: 04:32:01.
Quartier d'Orleans Marathon, Saint Martin on March 11th, time: 04:08:30. Titou Gorge Marathon, Dominica on March 12th, time: 03:32:19. Volcanic Sand Marathon, St. Vincent on March 13th, time: 04:23:45. Fonds Blancs Marathon, Martinique on March 14th, time: 03:34:36. San Juan Harbour Marathon, Puerto Rico on June 2nd, time: 04:41:59. St. Thomas Cove Marathon, US Virgin Islands on June 3rd, time: 03:00:34. Phillipsburg Waterfront Marathon, Saint Maarten on June 4th, time: 03:18:01. St. Kitts Waterfall Marathon, St. Kitts & Nevis on June 5th, time: 02:55:48. Pitons Peak Marathon, St. Lucia on June 6th, time: 03:06:05. Carlisle Bay Marathon, Barbados on June 7th, time: 04:00:03.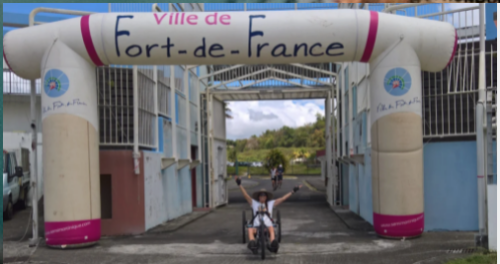 With the organization Z Adventures, here can be viewed the results of the 12 marathons: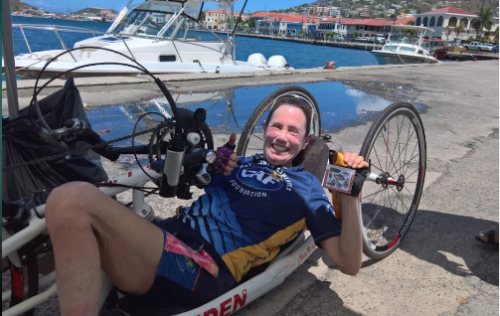 Sanden enlisted the help of Challenged Athletes Foundation in San Diego, which Sanden has worked with closely since her accident, in finding potential donors of good used equipment for disabled athletes, including pieces like handcycles and race chairs.
(link to the Foundation www.challengedathletes.org) "I've done more since I've been injured than I had prior," said Sanden, of San Clemente (California, USA).