A man from Cunningham (Tennessee) set up a new world record on a pocketbike. Will Rodgers, tells us his story!
A ride plan was developed. Including a path of low speed limit and as little commercial traffic as possible. Using a stock, Honda XR50 2002. The Natchez Trace Parkway was an obvious choice as no commercial traffic is allowed, the speed limit is mostly a maximum of 45 miles per hour so going slow would not be an issue. Since the Natchez Trace Parkway is not long enough to break the record on alone, we started in Clarksville, Tennessee and traveled mostly back roads until we got to the Natchez Trace Parkway. Once the path was set we developed a schedule along with the dates of March 1st through March 4th, 2014 so people could join us if they wanted. We then obtained a chase vehicle to run a camera the entire journey and pull a trailer with spare tires, fuel, tools and food. We were then set to advertise as much as possible. We invited motorcycles across the country to join us in the ride and ask for donations per mile or just a one time donation where 100% of the funds collected would go to Christian Motorcyclists Association's RUN FOR THE SON ministry. We set up the website: http://www.worldrecordminibike.com and advertised it throughout the country via CMA chapters. We distributed flyers at the local motorcycle shops. Nashville's WSMV News Channel 4 picked up my story. I was in the March issue of Heartbeat magazine and will be in the May issue of Thunder Roads Magazine.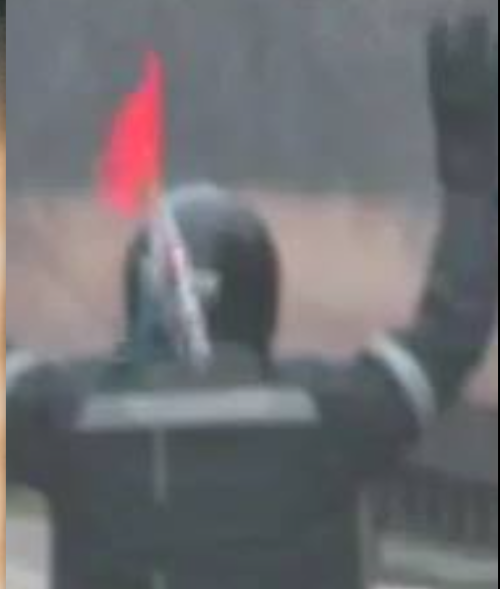 Day One Events: On March 1st, 2014, We met to take off on our journey with the Temperature at 45 degrees. Many folks had showed up to see us off and several came along for the fun. Riding along on the journey just before the start of the trip, I managed to pull the wires from our caution light we had attached to the chase vehicle. After a failed attempt to repair it, we noticed one of the tires was low on the chase vehicle so we got out the air tank and aired it up. I started my journey from Clarksville, TN at 7:45 am. It was a nice convoy of motorcycles and the chase vehicle. We had a camera in the chase vehicle to video the entire trip. The chase vehicle pulled a trailer with spare parts, fuel, and tools in the event we needed anything. Not too far out of Clarksville, TN, I lost my flag pole from the minibike. Rodney Ortiz went back to look for it. It was about this time Ron and Maggie Kliewer joined up with on on their motorcycle. Once we reached McCrory Lane in Nashville, TN, we stopped at the Harpeth Park and waited for Rodney to arrive with the flag and to take a short break. I filled up the minibike with fuel here also and tightened up my handlebars as they were coming loose. Once Rodney arrived, we taped the flag pole together with electrical tape and resumed the trip. Our plan was to eat at the Loveless Cafe but it was packed and there was a 1 ½ hour wait to be seated so we stopped next door at a place called the Bar-B-Cutie that was inside a Texaco fuel station at 10:45 am. At this location, we met up with my sister, Donna Martin, the Columbia, Tennessee chapter of the Christian Motorcyclists Association, and a gentleman who had ridden his blue three wheeler up from Mississippi to join in on the ride. At 11:50, we resumed the journey as we were just a few hundred yards from the start of the Natchez Trace. The small group had turned into a large group now as we headed south on the Natchez Trace. The Columbia Chapter of the CMA waved goodbye as pulled off at the Columbia exit and we continued on a short distance before and pulled off at the GORDON HOUSE-a historical site that included badly needed public restrooms. We continued until we reached HWY64/15 at 4:40 pm. We loaded up the minibike. And headed to the motel for rest. I had installed a bicycle speedometer to aid me in keeping the 12 year old minimoto's RPM less 75% of what it would run. I had never got it programmed properly so with the minimoto going as fast as it could, the readout said 65 so I knew that as long as the number never got over 49 I felt confident that the motor would hold out for such a long trip. It did help as there were several long down hill sections where I could have easily blew up the motor.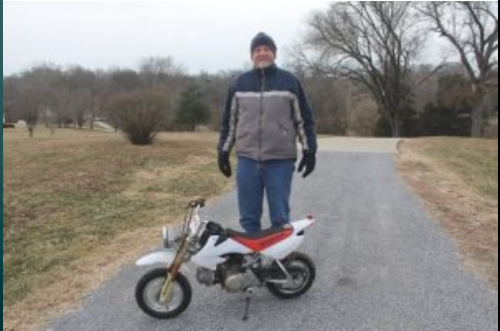 Day two Events: Leaving Lawrenceburg, TN we arrived at the intersection of the Natchez Trace Parkway right at 7:00 am at Hwy 64/15 where we stopped. I filled up with fuel and we took off. Day two was "THAT" day. You know, the first day of the year that the wind is warm after a cold winter. The day started off cool but it got up to 75 degrees. The sun was shinning, you are riding and your friends are with you, the beauty of the trace, the history, the scenery,….add that to the fact that I have half completed a 40+ year dream of breaking a world record, nothing could stop me as I was invincible. We stopped at the Tennessee/Alabama state line and I discovered that one of my foot pegs had the pin about to fall out so I had to place a wire tie on it to hold it in. We lost the flag again-not completely this time like before. The electrical tape held it but the top half of the flag was spinning around like a propeller so we stopped and put more electrical tape on it to hold it in place. We stopped at a site called PHARR MOUNDS for a picnic lunch of ham that Frank and Dana Wall had brought. I laid down on the ground and napped in the warm sun for a few minutes. We took off, I had forgotten to fill up with fuel and the bike started sputtering so I put it on reserve before it stopped completely and pulled over on the side of the road and filled up. We were only about 15 miles from where we were to stop for the day. We loaded up at Hwy 45 exit at 3:55 pm and headed for the motel. The bicycle speedometer did not work today. I suspect the batteries had already went dead from using it all day yesterday but it is OK as I have a good feel for where to hold the throttle and the down hills are not steep so it has served it purpose.m.
Day three events: Got a late start 9:00 am from Tupelo, Mississippi as it was 19 degrees with sleet and winds around 20 mph. Finally after sitting around for two hours waiting to see if it would be safe to travel. The tie down straps holding the minibike on the trailer were frozen. I knocked the ice off them and managed to get one loose. I didn't put any fuel in the tank as I didn't want to try as I was already cold and I hoped that if I ran out, it would present another stop for me to warm up. The first bridge I came to was wet and I didn't know if it was frozen and I placed my feel in an outrigger position just in case. This was the dangerous kind of ice that was thin and you couldn't tell if it was wet or frozen when you saw a dark spot. Luckily the wind has blown most things dry. All the wonder and beauty of yesterday's ride was gone and the terror of the longest day of the trip. New plan. Stop more often but as short a time as possible, ride as fast as I can. As cold as it is the motor isn't going to overheat and seize up so I can use that to my advantage. On the trace there is a place to stop approximately every 20 miles and I stopped at many of them and I climbed into the chase vehicle to warm myself just enough to make the hurt in my fingers and toes ease off then hit the road again. I was told that everyone was amazed that I was riding so straight because I was shivering so bad. It was because my handlebars bolts had loosened again and was absorbing some of my movement but they got too loosed and I had to tighten them up again. The temperature finally reached a high of 27 but I could feel no difference as I was frozen. I have been cold before but, never have I been that cold for so long. Sitting on the minibike was putting a toll on me. My knees were hurting, my feet and hands were hurting and I wasn't the only one. There were three other bikes still with me, and they were just as cold as I was. I held the throttle wide open today all day. I gave it everything it had and was hoping I would have a flat or run out of fuel or the motor would blow up. We really didn't stop for lunch-we snacked several times we stopped-cracker and water, cookie and water. Five minutes in the chase vehicle to warm up and take off again. Finally at 6:25 we pulled off at HWY 43. I was amazed there was still light but It was getting dark by the time the minibike was strapped down and fully dark which made it difficult to find the motel. The day was a horrible one but we made it. When I say we, There was Jim Wall and Dana Wall in the chase vehicle pulling the trailer with supplies, Dan Harvey in his car driving ahead making sure there was no traffic issues and having the motel rooms ready for us when we get there, Jim Bell, Mike Haney, and Sue Haney on three motorcycles and I was on the Honda XR50.