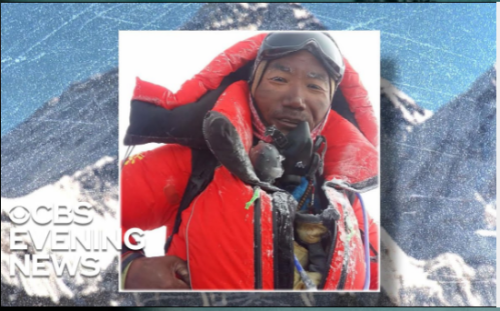 Kami Rita is the man who has reached the top of Everest the most times, 24 times, the last time being on May 15, 2019.
The Seven Summit Treks agency, for which he works as a guide, announced it this way: May 21, 2019. 24th ascent of Mt. Everest (8,848 m) by Kami Rita Sherpa, huge congratulations to our senior guide.
This morning at 6:30 am, Kami Rita climbed Mt. Everest for the 24th time (second climb this season) and broke his own record of 23 climbs!
A native of the village of Thame and 49 years old, Kami Rita Sherpa first climbed Everest in 1994. I
n 2017 he equaled Apa Sherpa and Phurba Tashi Sherpa as the people with the most ascents to Everest, with 21 peaks. In 2018, he rose again and held the solo record, which he has expanded this spring of 2019 twice.
On May 15, he reached the summit just behind the team in charge of fixing the ropes to the top. Today, May 21, he did it guiding a group of policemen of Indian nacionality.
After reaching its 23rd peak on May 15, it didn't take him a week to climb again and raise his record 24 times to the top of Everest.
In the fifth time he doubled in the same season It is also important to underline that Kami Rita Sherpa has ascended Everest twice in the same season.
Definitely a physical challenge, despite having carried it out with the help of supplemental oxygen. In fact, the double is not such an extraordinary achievement either, because before starting this 2019 spring season it had been registered 165 times throughout history, according to data from the Himalayan Database.
It is not, in fact, a novelty even for Kami Rita Sherpa himself, who had already repeated the top on Everest in the same season four times previously: in 2009, 2010, 2012 and 2013.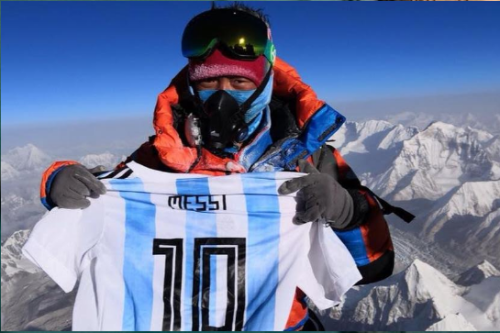 There have even been seven sherpas throughout history who have climbed Everest three times in the same season:
in 2007 they did Chhiring Dorje Sherpa, Dorje Sonam Gyalzen, Lhakpa Nuru Sherpa, Pemba Dorje Sherpa, Phurba Tashi Sherpa and Son Dorje Sherpa, and in 2018 he was emulated by Lhakpa Dendi Sherpa.
All this began a splendid day off May 13, 1994.
Spurred on by the open skies and surrounded by promising horizons, a 24-year-old Nepali climbs fast, cheeky like any young man, by the southeastern edge of Everest.
Even the legendary Hillary Step obstacle, now gone after the 2015 earthquake, does not hold back its ambitions.
His blood boils and he feels how everything throbs.
The rarefied air over 8,000 meters, where many of the human motivations are fragmented into atoms, does not affect it like the rest.
No, he is Kami Rita Sherpa, member of an admired lineage of high mountain guides, and when he reaches the summit, happy and excited, he still does not know that he has started a path that will position him as one of the most prolific and beloved mountaineers of the Himalayas.