OWR certifies that James Ben Hanlon, (Texas) born December 9, 1955 in Odessa, Texas has set a new official world record for:
"Oldest Professional Bull Rider." Mr. Hanlon has been riding bulls since he was 13 years old, has been passionate about it and has achieved his goal.
He has studies in Speech Communication, Business Administration and belonged to the Air Force of the United States of America where he was honorable discharged.
This Saturday, January 30, 2021 at 12:00 pm Mr. Hanlon rode a bull for 6 seconds for an activity of the WSPBR (World Senior Professional Bull Riders) organization where he has achieved the world record in front of 60 people.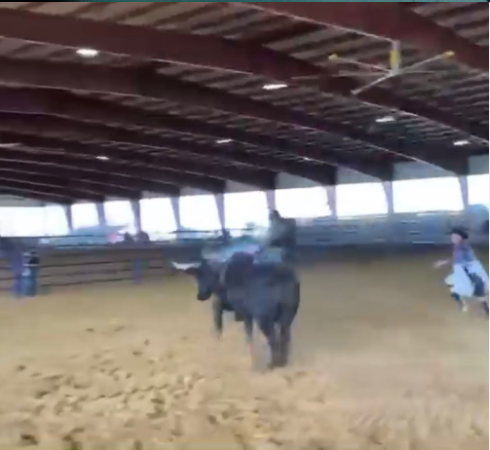 He has been in different television programs from NBC with Ryan Seacrest and is currently retired and professionally bull riding in Cisco, Texas. One of the reasons he had the goal for the world record was his bull rider partner and friend Kenneth McKee who passed away last year (2020).
He's been sponsored by Raddon, Inc, Mellow Sound Productions y Linda Hanlon his wife. Rodeo is a traditional sport in the United States, influenced by the history of the Spanish cowboys and the Mexican Charles.
It includes riding wild horses or bison bareback (such as bulls) and performing various exercises, such as throwing ropes, hitting animals, etc., (without killing the animals).
The competitions are mainly held in the United States, Mexico, Canada, Brazil, Australia and New Zealand. Riding bulls is very popular and one of the most dangerous at the same time.
The rider weaves a belt into his gloves to help him catch the animal.
The rider must remain on the animal for eight seconds. The rider can fracture when falling. It is supported by a rope of half a centimeter to avoid injuries or cuts to the bull.
Light colored leather heads are used to show off when driving, leather gloves are also used to prevent rope burns or arm injuries, and protective vests and helmets are worn.
A vest is required, and if you wear a helmet or hat or are traveling in Texas, the helmet is optional.
The OWR organization has verified all the data and carried out the pertinent tests to issue the three registration certificates, counting on the Illustrious Council of Notaries of the European Union. (European Notaries) and approved by all the Associations of Illustrious Notaries in the world.