"Glory after every fall' might be the best expression to define my to-date and future achievements. Enthusiasm, excitement, passion, commitment, and most importantly, optimism, are the qualities that keep the above expression alive.
Journey of DR. MUHAMMAD UMAR MAHMOOD
When I came to my senses, I discovered that I had a disability that would end with my death.
The journey of my success started in 2003, when I got high first division in my Matriculation Examination just in 6 months. As since my childhood I want to become a doctor of medicine, and I can't complete my matriculation examination in science subjects due to non-availability of staff in my private school, but a shattered dream to have the title "Dr." is still alive. After completion my graduation, again in a short time, just in 4 months, I got Government job on merit and thus the dream to do something extra ordinary again active and I started my Journey of Education in the sense to do something extra ordinary. I completed my Master Degree in Education along B.Ed and M.A History in same year 2011. After completion of M.A Education, I started my M.Phil from a renewed university in Lahore. I took my classes on the weekend, did a journey of 88 KM on my three-wheeler bike, reached the university at 5:30 on Saturday after school time, and reached back home on Sunday evening after taking three classes. This journey met its end in 2015.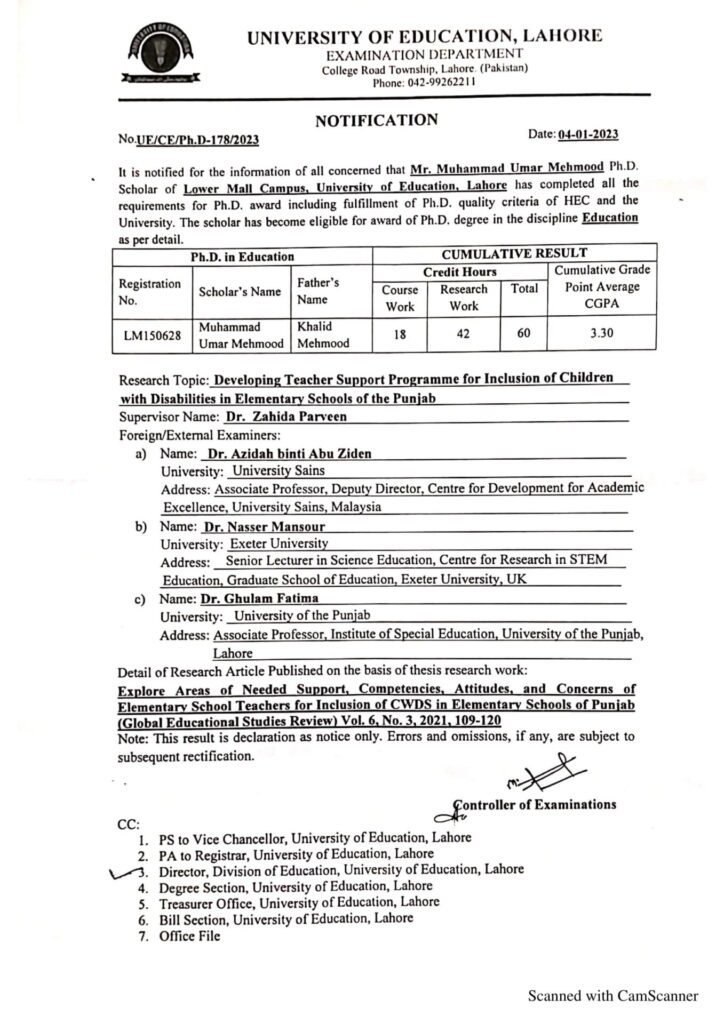 During this M.Phil journey I met countless issues as to be reached university in time, do a regular job couple of medical issues regarding my polio disease too. In 2015, the sudden death of my mother changed my life as a whole, but in that I boosted myself up, as this was the direction that I got from my mother: I can do as much studying as I wish. My mother had a good hand at palmistry, and once she showed this to me. So, just after the completion of M.Phil I got admission in PhD and started this journey to add a word "DR" with my name. I attended my classes on Thursday and Friday from 4:00 p.m. to 8:00 p.m. I do this journey after school on my three wheeler bike. Along this path, I completed an M.A. in Urdu, English, Political Science, and two special education degrees in the fields of PHC and HI. As in 2015, just after my M.Phil, I started PhD within a mindset to be the "Most Degrees Holder Special/Disable Person of the World". In 2017, I got married to a special girl. At that time, I completed just my course work of PhD. After one year of my marriage, Allah blessed me with a baby girl, and after the second year, one more baby girl. At that time I was in starting of my research work. In the ending of 2019 I got a job and shifted in Pind Dadan Khan, 6 hours far away town from my native house. Within this, I couldn't concentrate on my research work, and COVID-19 added to my difficulties too. In the beginning of 2022, I again started my research work and completed it within a couple of months, working days and nights. Now I am here to claim that "I am the most degree-holding person in the world."
Now I wish to do Post doctorate from any university from UK, Australia, Canada or USA. I hope, after this world record, I will get a chance to meet this dream too.